In this article, you can find more information about the design of the Envision Glasses.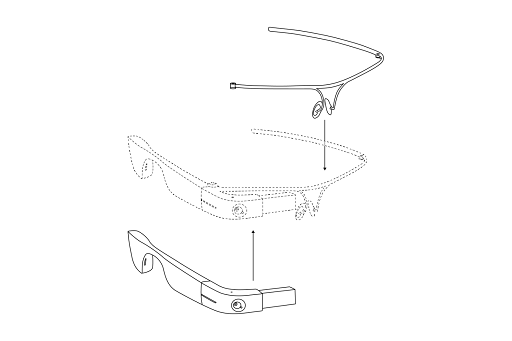 Envision Glasses Body and Envision Glasses Frame
The Envision Glasses are AI-powered smart glasses designed to facilitate the independence of visually impaired and blind people by turning text, images, and more into speech. Envision partnered with Google Glass Enterprise Edition 2 to bring the best of Envision AI to a pair of wearable smart glasses. The Google Glass has a sleek and lightweight design that is discreet and comfortable to wear.
Upon unboxing, within the protective carrying case, you will find the Envision Glasses already assembled and ready to use. Each pair of glasses consists of two components: the Envision Glasses Body and the frame. The glasses look like a band that stretches across your face with the titanium frame on the left side and the google glass black wider band (Envision Glasses Body) around the right side.
By default, the glasses come with the titanium frame; however, you also have the option to order additional black frames by Smith Optics, which have lenses that you can interchange like a standard pair of glasses. Should you choose to order the additional Smith Optics frames, they will be shipped separately from the Envision Glasses.
The Envision Glasses body is the central processing component and forms the right arm of the glasses. It houses all of the machinery and weighs roughly 45 grams. At the back end of the body, you will find the USB-C port, the power button, and the speakers. On the right side, along the exterior of the glasses' body and against your temple, you will find the touchpad. The foldable front of the body extends in front of your right eye and here it contains the camera and display. The display shows a screen, where all the information being said by the glasses is presented. This can be turned on or off. Next to the display, in the right top corner, you will find the camera, which enables the glasses to capture your environment. Finally, if you continue to move your finger along the body, you will feel an indent, which is where the hinge is located. The hinge is used for the activation of voice commands.
The glasses frame makes up the bridge and left arm of the glasses and attaches to the body to form a standard pair of glasses. Circular metal hinges on each component allow them to attach and detach. To know more about how to attach the frame to the body of the Envision Glasses, see Attaching the Envision Glasses Frame